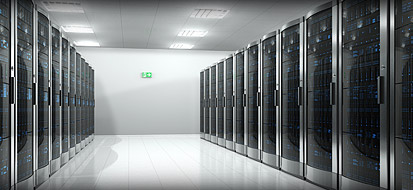 Network Automation
HP Network Automation (NA) automates the complete operational lifecycle of network devices from provisioning to policy-based change management, compliance, and security administration. Network Automation provides process-powered automation. When combined with Network Node Manager i software (NNMi), you get an integrated solution that unifies network fault, availability, and performance with change, configuration, compliance, and automated diagnostics.
Process-powered automation particularly helps environments with large networks and high costs associated with manual integrations among disparate management systems. It provides a graphical integration workspace, which lets you easily define complex and manually intensive workflows. When combined with Operations Orchestration software, Network Automation takes workflow automation to a new level, letting you automate IT workflows beyond traditional network change and configuration management. This empowers network operating centers to achieve greater results with easily deployed workflow automation without the need for scripting.
Network Automation supports an exhaustive set of network devices from over 70 vendors, and includes virtual devices, giving you comprehensive network change and configuration management coverage for an extensive range of devices. For customers with Cisco devices, Network Automation offers unique capabilities for unmatched change, configuration, and compliance management of those devices. Bringing networks into compliance with corporate or regulatory standards is a nontrivial, labor-intensive, and ultimately difficult task.
Network Automation helps you meet compliance standards through a network compliance model that maps device information, including configurations and run-time diagnostics, as well as policies and user roles, into a normalized structure to prevent compliance violations before they occur. Built-in best practices immediately measure network compliance against industry-accepted best practices. Network Automation provides visibility and control over globally distributed, multivendor networks. This helps you to dramatically reduce manual mis-configurations that cause the majority of security breaches and network downtime.
Key Benefits:
Reduce costs: Automate manual tasks and maintain up-to-date and complete data on network device assets to reduce costs
Increase compliance: Meet internal and external regulations while avoiding fines for audit failures
Simplify management: Automate routine tasks via a simple, intuitive web browser featuring quick-launch tasks and the broadest device support (70+ vendors)
Increase uptime and security: Automate configurations update and complete audit capabilities including keystroke logging
HP integrations: Unify fault and performance with NNMi and workflow automation with OO